Thursday, June 26th, 2008
The Java team won the third IT Boxing match on Web Services and SOA on 25 June 2008. Three teams and 11 speakers took part in the dispute "Which platform is better for Web Services and SOA". The Java team presented a technical lecture about the Java EE platform as solution for enterprise and SOA applications and a live demonstration. The .NET team presented a technical lecture about Windows Communication Foundation (WCF) and Windows Workflow Foundation (WWF) and their power in building SOA applications. The referee team presented a general SOA lecture and presentation about integration of Java EE, .NET WCF and PHP in a SOA solution.
The event was attended by about 200 software engineers.
The winner is the Java team!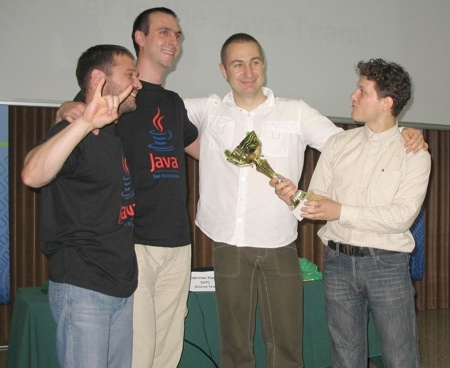 Votes
Visitors voted at the end of the event and the results are:
Java Team – 75 votes
.NET Team – 53 votes
Visitors also voted for best speakers:
Best Java speaker was Nikolay Nedyalkov.
Best .NET speaker was Vladimir Tchalkov.
Best referee speaker was Svetlin Nakov.
Photos from the Event

Video from the Fight
We recorded the fight so everybody can enjoy it. Download the video: IT-Boxing-SOA-25-June-2008-Main-Battle.avi.