Saturday, March 8th, 2008
The Java team won the second IT Boxing match on Web technologies on 6 March 2008. The battle was merciless: 24 contestants in 4 teams (.NET, Java, PHP and Ruby) fighted for proving their technology better in 9 technical talks with live demonstrations. The teams presented ASP.NET, ASP.NET AJAX, ASP.NET MVC, Echo2, Google Web Toolkit, JavaServer Facaes and other Java EE technologies, PHP, Symfony framework and Ruby on Rails along with lots of demonstrations and discussion.
Finally the visitors voted and the results states:
Java Team – 75 votes
.NET Team – 49 votes
Ruby Team – 13 votes
PHP Team – 11 votes
The winner is the Java team!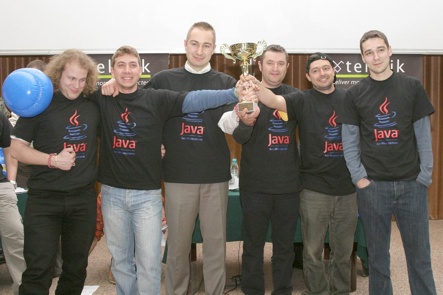 The event was attended by about 350 software engineers. The technical talks and discussions were more than 5 hours so some of them didn't stay until the end and didn't voted.
Presentations from the Event
Photos from the Event
More Photos from the Event
Browse the photos from the IT Boxing for Web Technologies.
Video from the Fight
We recorded the fight so everybody can enjoy it. Download the video: Video-IT-Boxing-Java-MS.NET-PHP-Ruby-6-March-2008.avi.